New years eve in Toronto two years ago.
Fick förfrågan vad en borde göra på nyår här i London. Antar att det är för att jag är expert på att ha kul på nyår? Japp. Egentligen brukar jag spontana rätt mycket för att så länge jag är runt kul folk brukar jag ha kul. Men så är ju London så förbannat bra på att festa!
Först, glöm inte att på nyårsafton i London är all transport gratis från 23.45 till 04.30 så passa på.
Du kan också kika på min Londonguide för att hitta mina bästa restauranger, barer, fik osv.
De här är i vilket fall var jag helst spenderar sista natter år 2016:
—
Got a request to gather up recommendations on what to do in London for New Years Eve. So here it comes:
The Cave Club NYE – Spunk!, the Moth Club, £25
Årets fest för alla 70-tals romantiker som vill dansa bort 2016 till Bowie, Buzzcocks, Talking Heads osv. Knöka in dig under det discoglittriga taket bland fuskpälsar, 70-tals luggar och rockpojkar.
—
A disco for punks who want to enter 2017 jumping and sweating to a fair bit of Bowie, Buzzcocks, Throbbing Gristle, X Ray Spex and Talking Heads. The club night's faithful will dress flamboyantly so a great one to make an effort for.
Oval Space Music x Percolate present NYE, Oval Space – £20
För alla som älskar elektronisk musik och vill hångla med likasinnade. Mycket killar i blyga luggar.
—
For all of you who loves good electronic music.
NYE w/ The Beastie Boys, the Shacklewell Arms £10
För varför inte? En hel natt dedikerat till allt som är och som har influerat Beastie Boys. Punk, hip-hop, rock'n'roll. Brukar alltid vara skitigt och en riktigt pangfest här.
—
Because, well, why not? After providing the world with multiple albums full of bangers, The Beastie Boys finally get their own tribute NYE night at The Shacklewell Arms. DJs will press play on Mike D, MCA and Ad-Rock's vast back catalogue and also slip in tunes connected to the genre-spanning trio. Go dressed to slug it out for 'Best Dressed Beastie'.
Sink the Pink, Clapham Grand – £25
Drag queen-klubben Sink the Pink gör en aldrig besviken. Det är glitter i mängder, high kicks och spanks. I år ska en klä upp sig som det bästa eller värsta med 2016 för att sen doppa sig själv i glitter.
—
The hedonistic party collective takes on this strange ride of a year by requesting people dress up as the best or worst of 2016. And then douse that costume in glitter. Start the year with exuberance, high kicks and sparkly antics.
Flawless – NYE Beyonce Party, Macbeth – £15
Med tanke på hur 2016 varit förtjänar vi åtminstone att avsluta det med nio timmars dansande till Beyonce. Macbeth heter klubben och det brukar vara helt jävla amazing.
—
After honouring Queen B all year, this regular night culminates with a New Year blowout that focuses on all Yonce sounds plus artists she has inspired. That's nine hours of Bey-enriched goodness.
Breakfast Can Wait, the Ace Hotel – £35
Att fira tolvslaget på en takterass med miljoner fyrverkerier verkar ju inte fel. Här kommer det vara chict och lyxigt med världens utsikt. Tänker att en kan fiska prinsar och hångel här, förutom att dansa till 3am.
—
Take to the roof of the Ace Hotel this New Year's for a chic party on the terrace. Disco, funk and boogie tunes coincide with a killer view of London's NYE fireworks at midnight, a top-notch cocktail bar and dancing til 3am.
The South London Soul Train, Bussey Building in Peckham – £10
I ett gammalt warehouse i Peckham får du en helnatt med Northern soul, rythmn and blues, disco, funk och soul. Brukar vara utklätt, maxat och typ aldrig ta slut.
—
Peckham's hugely popular soul night spreads out at the Bussey Building for a nine-hour NYE special to welcome in 2017, using all five levels of the building to host five different rooms of soul, rhythm and blues, funk, disco and Northern soul.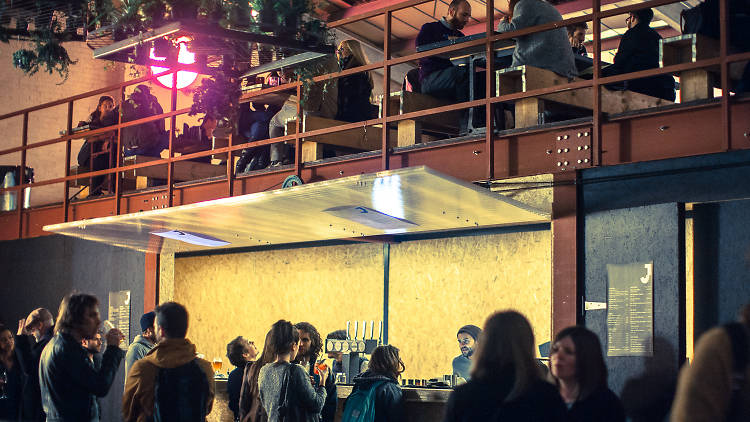 Flamingo Pier NYE with Psychemagik & Bill Brewster, Micks Garage, Hackney Wick – £25
I ett warehouse i Hackney Wick med två dansgolv och två terasser. Tänker mig massa kids och konstnärer head boppa till psykadeliskt, brittiskt och elektroniskt skitigt.
—
Warehouse space Mick's Garage becomes a playground of sound, light and performance with an exclusive set from edit kings Psychemagik supported by Flamingo Pier DJs.
Gayklubben Vogue Fabric Dalston har nyårsfesten Straight Nasty. Beskrivet som "fabulous musical music". Tänk typ Geri Haliwell, Kelly Rowland, Madonna, Sugababes,  S Club 7, Diana Ross, Loreen, Atomic Kitten, Janet Jackson, RuPaul, tATu, Shania Twain.
Kitschigt, fab och 100% dans. £5 i inträde hela natten, öppet till fyra.
—
The gay club Vogue Fabric Dalston are hosting the new year's party Straight Nasty. Described as "fabulous musical music". Think Geri Haliwell, Kelly Rowland, Madonna, Sugababes,  S Club 7, Diana Ross, Loreen, Atomic Kitten, Janet Jackson, RuPaul, tATu, Shania Twain.
Kitschigt, fab and 100% dance. £5 entrance all night. Open until 4am.
Kan också rekommendera tidningen Time Out's lista över nyårsfester. 
discover more of my gems in london:
my london travel guide
my favourite restaurants in london
brunch in london
my favourite things in london
Linn